Beach Handball
Beach EURO gold for Denmark and Germany
Decision day at the Beach Handball EURO 2021 in Varna on Sunday, highlighted by the women's final between Denmark and Germany and the men's final between Denmark and Croatia.
GOLD GOES TO DENMARK (MEN) AND GERMANY (WOMEN)
women's championship - final Denmark vs Germany 0:2, bronze medal match Norway vs Spain 0:2 
men's championship - final Denmark vs Croatia 2:0, bronze medal match Russia vs Spain 2:1 
17 matches in total on final day (full schedule)
all times CEST
Eric Willemsen reported from Varna, all photos © kolektiff | Jozo Cabraja, Axel Heimken, Uros Hocevar, Sasa Pahic Szabo
18:18
Germany's women and Denmark's men celebrating on the podium together with their coveted golden plates brings the closing awards ceremony - and the Beach Handball EURO 2021 - to an official end.
What a feast of beach handball it has been!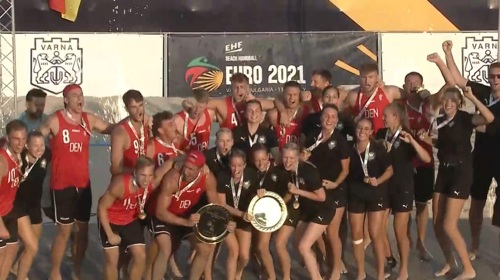 18:08
The Men's Beach Handball EURO 2021 All-star Team:
fair play team: Germany
best goalkeeper: Simon Sejr Jensen - DEN
best defender: Evgeny Svestula - RUS
top scorer: Cemal Kütahya - TUR (151 points)
MVP: Ivan Juric - CRO
18:03
Who doesn't want to relive that great final Denmark and Croatia have given us?! Here are the highlights for you:

17:53
The Women's Beach Handball EURO 2021 All-star Team:
fair play team: France
best goalkeeper: Katharina Filter - GER
best defender: Isabel Kattner - GER
top scorer: Marielle Martinsen - NOR (143 points)
MVP: Line Gyldenløve Kristensen - DEN
17:47
Two great finals we have seen today. Here are the highlights of the women's final between Germany and Denmark, 2:0. Enjoy!

17:32
DENMARK BEAT CROATIA TO DEFEND THEIR TITLE!
It is 2:0 (25:20, 28:22). What a performance from Denmark! No way beating this bunch of guys, even by a strong Croatia side who have to settle for a deserved silver.
17:22
And THIS is how the men's final looks from above. Stunning!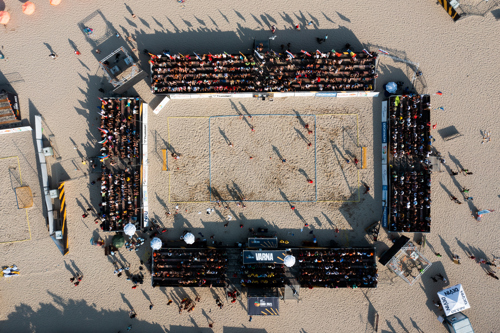 17:15
Advantage Denmark! They take the first set with a flawless attacking game, 25:20. A key role here for Nikolaj Mogensen, scoring 12.
Can Croatia bounce back in the second set or will Denmark win the title again, like in 2019?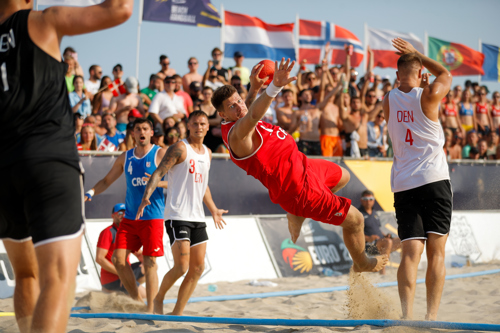 17:00
We are off and running. Good luck to both Denmark and Croatia!
This is what our EHF experts are expecting:
Márcio Menino: "Denmark. In the end it will be a goalkeeper battle and then Denmark will have the upper hand."
Chris O'Reilly: "Denmark. If they both play at the frenetic pace they are capable of, then Denmark will win due to their wider array of weapons in attack."
16:55
Beach handball is a super fast sports... so no waiting around, here comes the men's final, the closing match of the Beach Handball EURO 2021!
FYI: We have seen 114 YAC and 156 senior matches over the past 11 days here in Varna. I am sure we get treated to a worthy closer!
16:48
Germany have looked strong and confident throughout the championship. And Amelie Möllmann rises to the occasion in the final, scoring a stunning 26 points to top off the great work of the entire team.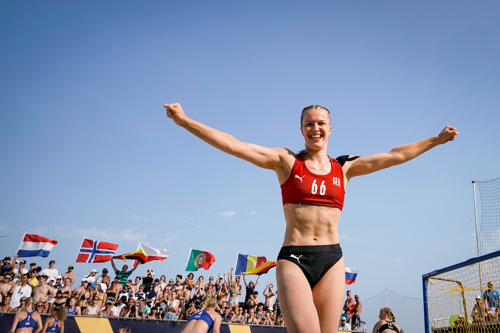 16:29
Germany win gold in the women's event!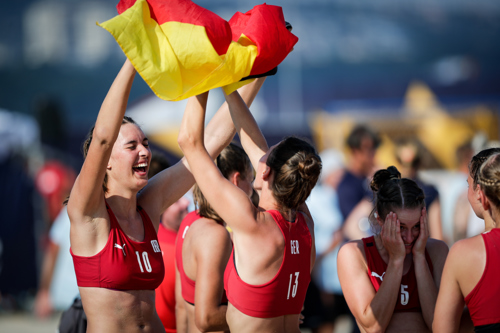 Returning back on the throne after 15 years, Germany beat defending champions Denmark 2:0 (24:21, 25:20). What a perfect game they have played!
16:13
This first set has it all!
Germany take it in the end, 24:21, after they squander an early 10:5 lead but have the edge again towards the end.
You can tell those are the two strongest sides at this year's championship.
16:00
Denmark holding on their title from 2019? Germany winning it for the first time since 2006?
This is what our EHF experts told me before the game:
Márcio Menino: "Germany. They have the best team overall. In terms of attack and defence as well as goalkeeper, they just don't have a weak spot."
Chris O'Reilly: "Denmark. The goalkeeper battle will be very even, but Denmark's experience will bring them over the line."
Let's find out right now who is right! The women's final is running.
15:55
No time to waste as we head straight on to the finals. Once again, this is the fun awaiting us over the next two hours: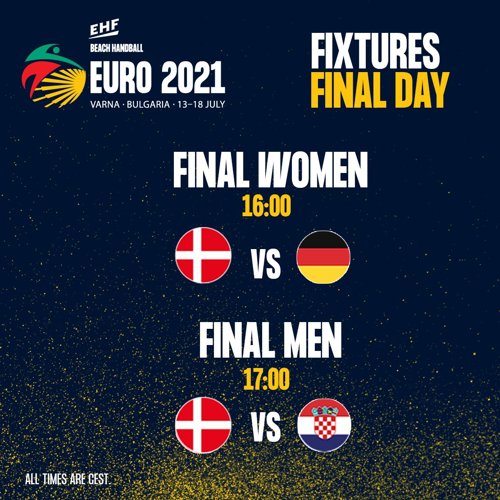 15:47
Crazy scenes on court 1 as Igor Neklyudov nets the decisive point in the shoot-out against Spain: 7:6.
The men's bronze goes to RUSSIA!
15:36
This one is going all the way!
Russia lead 12:6 in the second set, but Spain get level at 14:14 and Carles Asensio puts away a last-second penalty to make it 1:1 in sets.
A shoot-out coming up...
15:16
Wow, great finish to that first set! Nikita Iltinskiy gets it for Russia by scoring the golden goal for 23:22.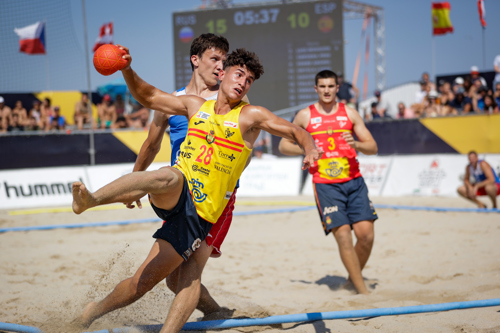 14:55
So next up are Russia and Spain. Let's see who is dealing best with yesterday's disappointment of missing the men's final.
Should be a bright game for bronze this!

14:42
Before we switch to the men's bronze medal match between Spain and Russia, get up to date on the match that will close these championships later today - the men's final between Denmark and Croatia:
14:32
Spain have got the bronze!
They edge Norway 23:22 in the close second set, despite Marielle Martinsen raising her tally to 20 points for Norway in this game.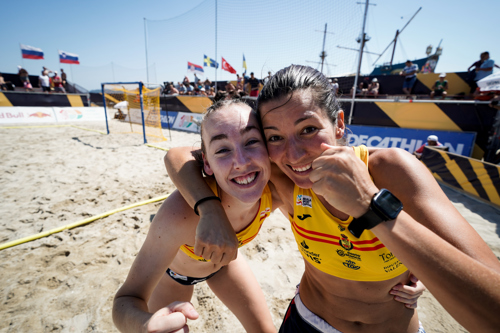 It is the second medal for Spain's women's team - four years after they also took bronze at the 2017 championship in Croatia. That is the same year when Norway won gold!
14:24
With the women's bronze medal match running, let's look forward to the big final between Denmark and Germany later this afternoon. All you need to know is one click away:
14:14
First step towards the bronze medal for Spain? They win the opening set 21:18.
It has been mainly a scoring duel between Patricia Conejero with 11 and Marielle Martinsen with 10 points.
14:00
It is getting serious! This is the plan for today:
14:00 CEST: Norway vs Spain - women's bronze medal match
15:00 CEST: Russia vs Spain - men's bronze medal match
16:00 CEST: Denmark vs Germany - women's final
17:00 CEST: Denmark vs Croatia - men's final

12:08
You want more of this? You get more of this!
Here are the Top 5 Plays from the women's matches on Saturday:
11:17
Check out some proper beach handball skills in our daily Top 5 Plays, from the men's action on Saturday:
10:48
We are still some hours away from the medal matches but don't think that Varna is quiet at the moment.
The placement matches, deciding the final ranking for each participating team, are in full swing and you can catch all the action live on EHFTV and follow the scoring in our dedicated beach handball liveticker.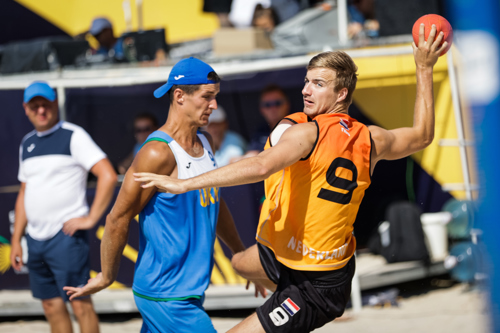 10:00
For the last time it is good morning from Varna!
It is the sixth and final day of the Beach Handball EURO 2021 and we are going to see an exciting tournament come to an end.
Before we take a closer look at what happens when today, here is the right clip to get you in the mood for another day of utter beach handball joy - our Mix Tape from day 5: