EHF Champions League
Summary: Metz take MOTW; Esbjerg beat Dortmund
The DELO EHF Champions League 2021/22 returned after a two-week break, with eight fiery clashes in round 7. The round opened on Saturday with four games and concluded on Sunday with another four, including the Match of the Week. 
18:30 
Enjoy the reviews of each of today's games just below followed by a short gallery of the best shots of today's games. We hope you enjoyed the weekend's coverage and we will see you for round 8!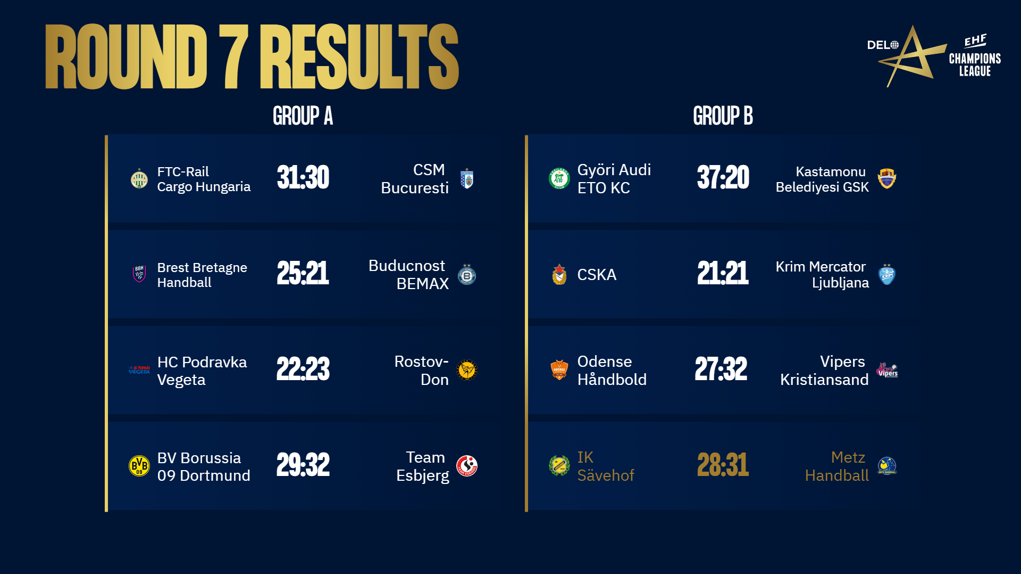 17:29 
RESULT: IK Sävehof 28:31 Metz Handball
An unnecessarily tense finish for Metz but they get the job done and take full points with them back to France. Astride N'Gouan picked up the Player of the Match award after her amazing outing on the line for Metz. N'Gouan scored eight goals from nine shots and was key in today's win. A mention should also go to the outstanding Jamina Roberts who looks to be getting better and better with each game. She netted 11 from 16 attempts.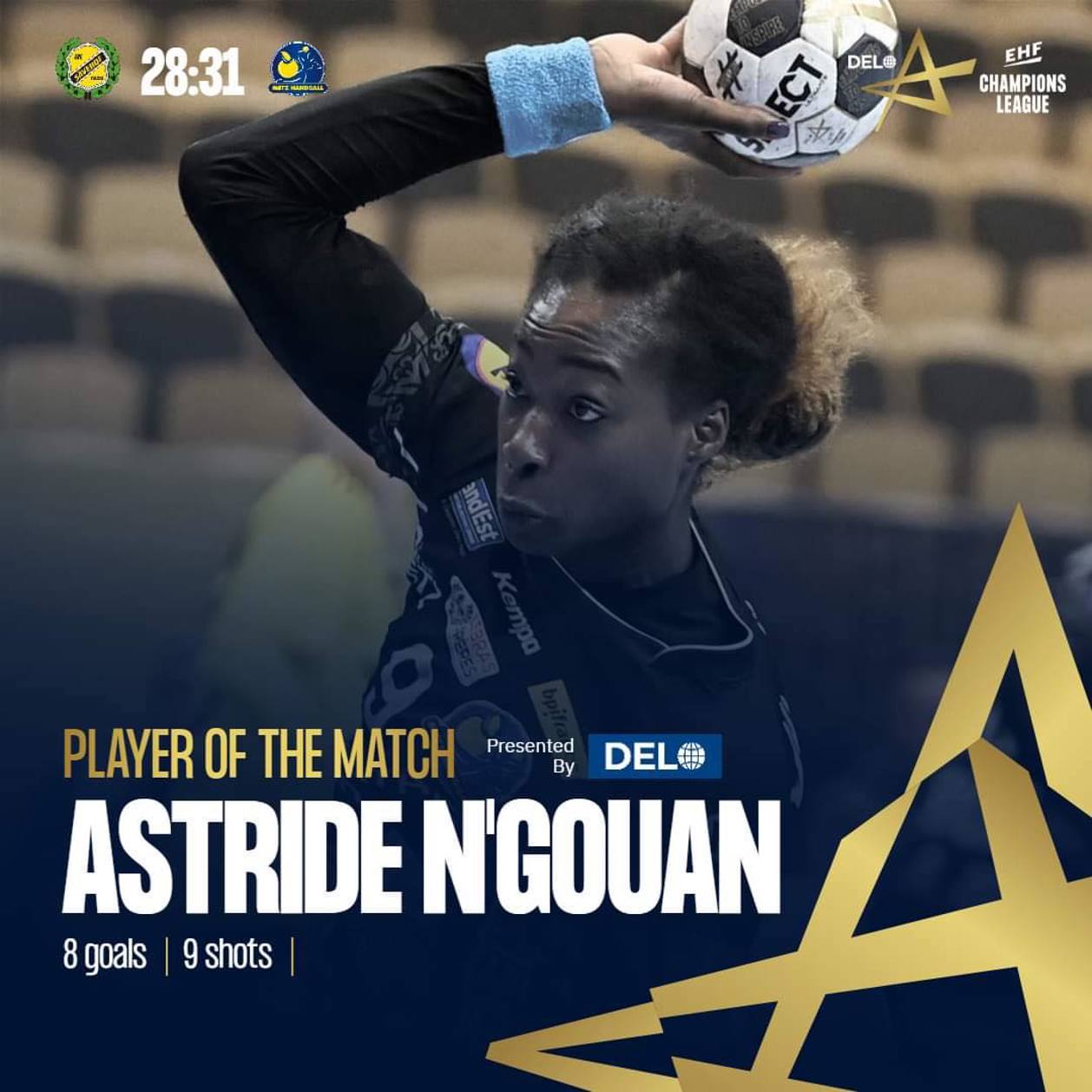 Roberts spoke after the game: "Even though we lost I am proud of our team and I think we put in good performance."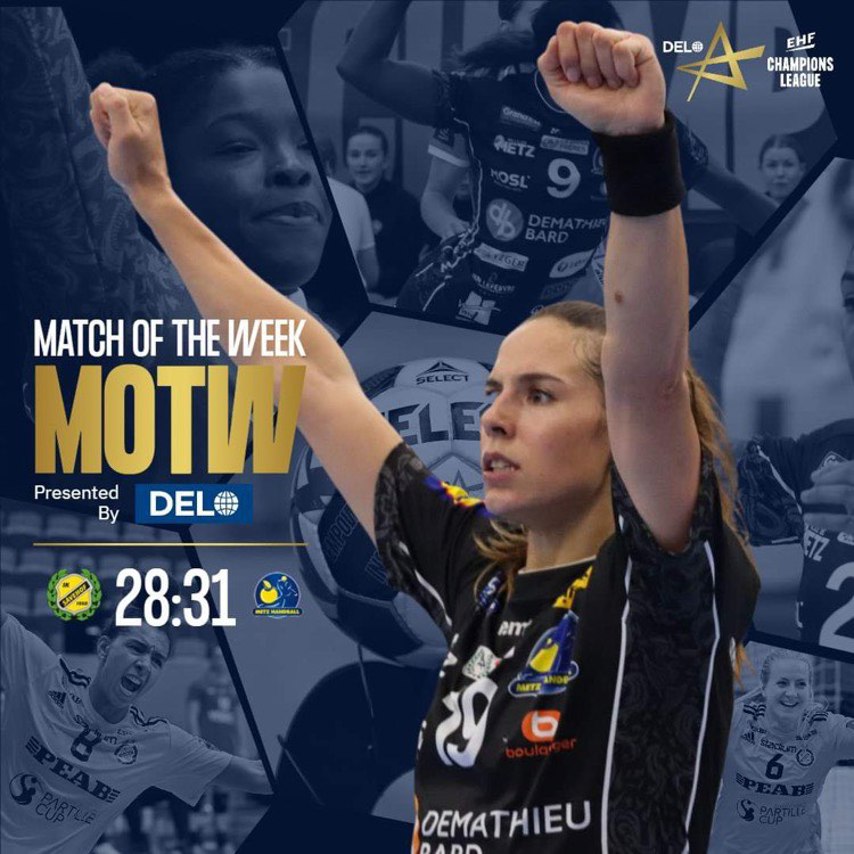 17:25
Never say die! Sävehof once again have clawed their way back into this. And it is a time-out for Metz! 

A 4:0 run for the hosts including three goals from Roberts sets us up for a tense final few minutes. Sävehof 27:30 Metz. 
17:22
Tamara Haggerty of Sävehof sees red following her third two-minute suspension due to a high tackle on De Paula. 
17:15
Astride N'Gouan (8/9) and Sarah Bouktit (3/4) are the backbone of Metz's attack today. It seems as everything has the final aim of getting that pass to the line and with such a mobile backcourt with Nocandy pulling the strings, it is a very hard task for Sävehof. Some really beautiful moments from the French side thus far. 
17:00
A very sloppy opening few minutes with both sides missing shots but Sävehof have come off worse for wear having missed five in the opening seven minutes. The gap is widened again to 21:15 thanks to a 5:1 run for Metz. 
16:37
HALF-TIME: IK Sävehof 12:15 Metz Handball
A big shout-out to Wilma Kroon Andersson in the Sävehof goal, her important saves (7) late in the second half really gave her side a boost and was a key reason for the rally. Metz's backcourt axis of Nocandy and De Paula have been quiet and look like they are warming up slowly, should they move up some gears in the second, Sävehof could be in trouble.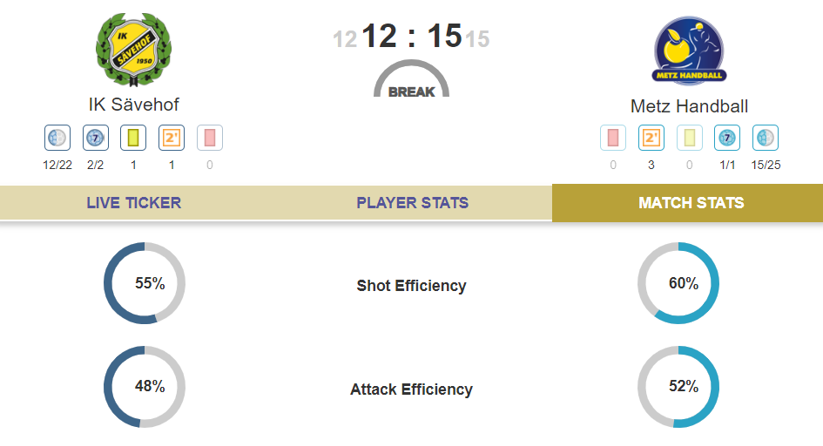 16:35
This game looked done after about 20 minutes but Sävehof have clawed tooth and nail back into this and now are only trailing by 3. An incredible effort by Jamina Roberts as she was pushed mid-air but kept her balance sees the scoreboard read Sävehof 12:15 Metz. 
16:19
A commanding start by the French side Metz. Their backcourt is working like a well-oiled machine as they slice through the Sävehof defence. 

A huge blow for the hosts as Nina Koppang fell awkwardly on her arm hyper extending her elbow in the wrong direction. She looked in a lot of pain, her game is over for today. Fingers crossed it looked worse than it was. 
16:01
And we are off! Wow, what an opening goal! A double in-flight goal finished off by Jamina Roberts opens the scoring for the day! Sävehof 1:0 Metz. 

Watch it here! 
15:52
Two massive shooters and go head-to-head today! Who will shine brightest? Will it be the in-form Roberts or the young gun Nocandy? 
15:45
We have a big challenge ahead of us, as Metz have the potential to reach the DELO EHF FINAL4. They have plenty of individually good players representing national teams and we'll try to exploit their weaknesses. It's important for us to keep up with Metz for as long as possible and hopefully be able to challenge them during the final 10–15 minutes of the game.
15:39
Up next is Match of the Week between Sävehof and Metz Handball! Anja Althaus sat down with in-form star of Sävehof Jamina Roberts ahead of the big clash for our DELO Superfan Talk. So, before we throw off at 16:00 (CET) make sure to check it out below! 

15:30
RESULT: BV Borussia 09 Dortmund 29:32 Team Esbjerg
Wow! It wasn't a beautiful game of handball but it was enthralling to watch. Riddled with shooting errors and Dinah Eckerle in goal for Esbjerg was a pain in the side for Dortmund with her 14 saves. Dortmund made life very difficult for themselves with all their missed chances but had one of the best 10-minutes runs I have seen all season with their 7:0 opening rampage at the start of the second half. The lack of a real back court shooter really hurt them at times but it is so impressive to see how this Dortmund side can hang with the best of them week in week out. 

It is full points for Esbjerg as they head back to Denmark having now jumped to second in group A. A big shout out to Vilde Ingstad who was the outstanding player of the match with her 8 goals from 9 shots on the Esbjerg line! Amazing.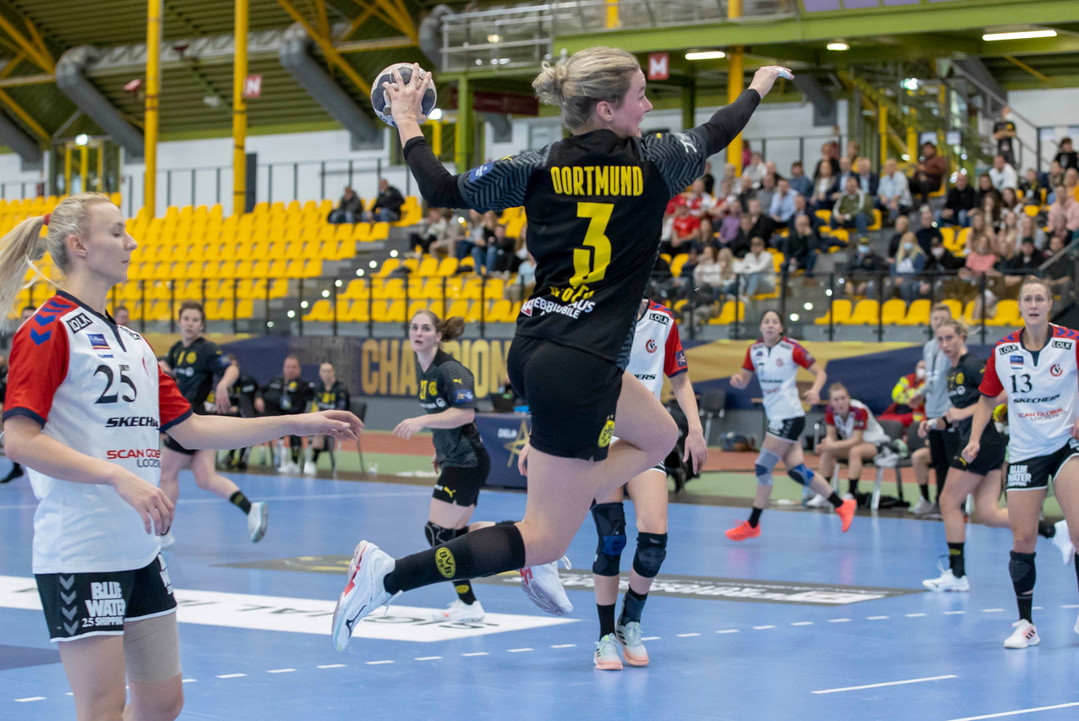 15:18
What a pass from Ten Holte and Jennifer Gutierrez misses a huge chance to pull it back to just minus 2! So many missed chances today for Dortmund. 
15:16
Esbjerg are making some very poor mistakes in attack but they are still three in front with 5 minutes left. 
15:10
Dortmund are starting to look a bit hectic in attack. Almost like a copy of the first half: strong start and slowly errors are creeping into their game. A wonderful turn by Kaja Nielsen sees her net her first goal of the day and it restores a three-goal gap for Esbjerg. Dortmund 24:27 Esbjerg. 
14:59
What a start to this first half! Dortmund come bursting out of the gates and went on a 7:0 run. It took 10 minutes for Esbjerg to score their first goal. Don't miss the second half! 
14:34
HALF-TIME: BV Borussia 09 Dortmund 14:20 Team Esbjerg
A lack of confidence in front of goal for Dortmund and the ice-cold Esbjerg punishing every mistake gives us our half-time score. Maybe it's not a fair representation of how competitive the half was as the German side has been putting a very good fight.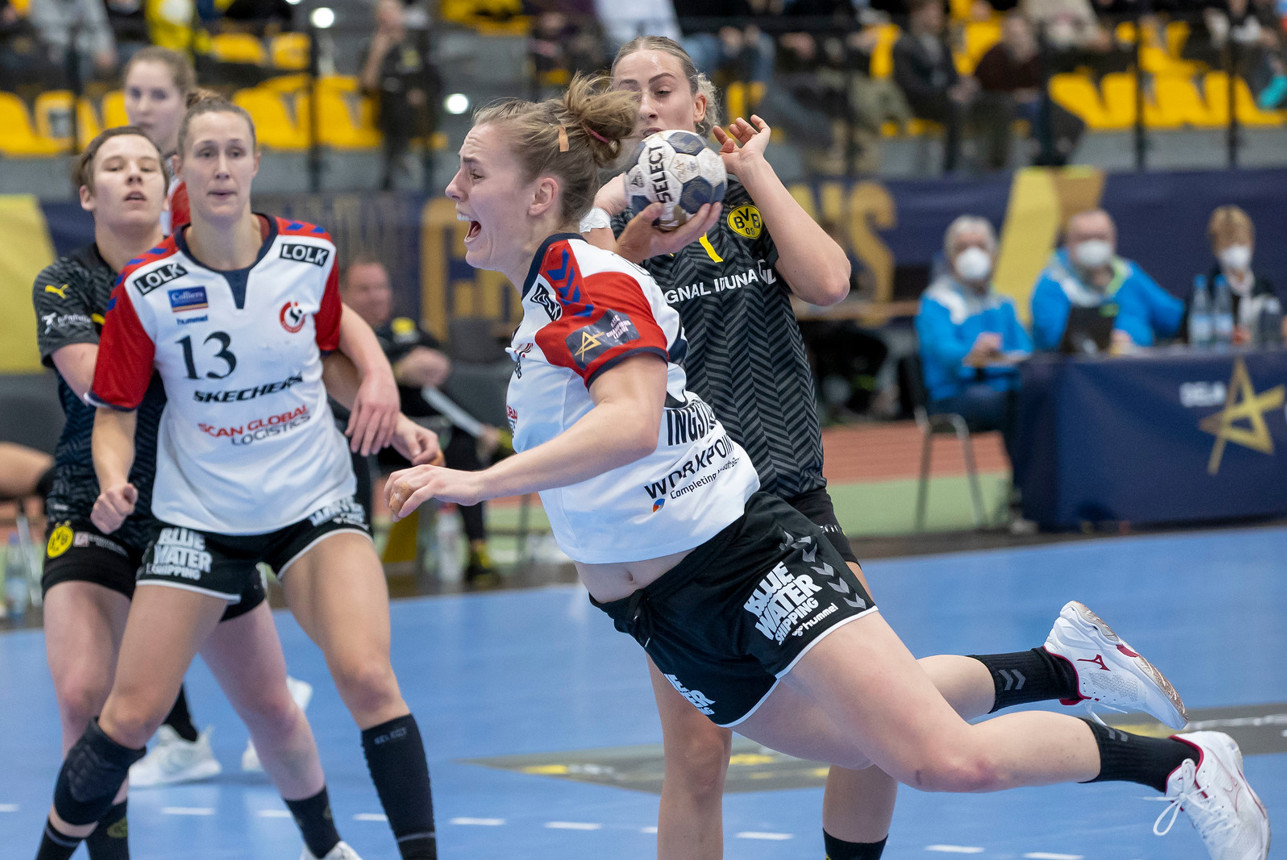 14:31
Vilde Ingstad is on fire on the line for Esbjerg. She is 6/6 so far and it tells you how Esbjerg are carving open this Dortmund defence!
14:24
Another great chance missed by Dortmund! That's six really good chances that the German hosts have missed. They will be kicking themselves at half-time as they could be a lot closer had they just converted a few of those chances. André Fuhr's main message during the last time-out was just this too. Dortmund 13:16 Esbjerg.
14:18
Dortmund have thrown the ball away too easily in the last few minutes. A poor pass by the otherwise excellent Alina Grijseels handed Esbjerg an easy fast break. If the German side want to stay in the game, they will need to cut out such errors as the Danish side are punishing them on the fast break. Dortmund 11:14 Esbjerg.
14:10
Dortmund are showing us once again why they are a very hard nut to crack when they are playing at home. It's a great start by the hosts at we sit drawn at 6:6. Henny Reistad has yet to play but she is currently warming up.
13:40
Before the season began, we might have been small favourites to win this match. But the way Dortmund have played might have evened that out a bit, but then again, the way we have played so far could makes us small favourites again. Either way it makes for a good game.
At the same time last season, we had less points than we have now – we are very proud of that. Now we have to play Esbjerg – to my mind the strongest team in our group. And with Henny Reistad they have one of the best players in the world: I really enjoy watching Esbjerg's matches. On a good day, we can keep up with them so we will give everything to achieve that.
13:26
For today's opening matches we will focus on the group A tie of Borussia Dortmund vs Team Esbjerg. Esbjerg lie two points ahead of the German side and a win for the hosts could see Group A turning into a really tight affair. Join us at 14:00 (CET) for the action!
13:17
Welcome to Sunday's coverage of the DELO EHF Champions League! We have two games coming up in just over 40 minutes - both live on EHFTV. Borussia Dortmund vs Team Esbjerg and CSKA vs Krim Mercator! 
Saturday
20:33
That's a wrap on our coverage of Saturday's DELO EHF Champions League action. Don't forget to join us tomorrow as round 7 continues with another four matches.
Sunday's schedule:
14:00 CET Borussia Dortmund vs Team Esbjerg
14:00 CET CSKA vs Krim Mercator
16:00 CET MOTW IK Sävehof vs Metz Handball
16:00 CET Odense vs Vipers 
Below, read all about how Saturday's games unfolded in our match reviews.
It was a big fight. I'm proud of my team because it's difficult to play so many matches at the moment. Buducnost are a young team that are playing better and better. It was difficult to win today. We played the game. Sandra Toft was very good and so was the defence. For our last home game of 2021, we are very happy to have won.


























We needed to concentrate on a very high level, which we succeeded in I think. The most important thing was to have very good defence — this was the key for today's good performance. We played as a real team on the court. It made a big distance in the final score.
No doubt in Hungary! Györ clinch a big win against the Champions League debutants Kastamonu and extend their perfect record in the group phase.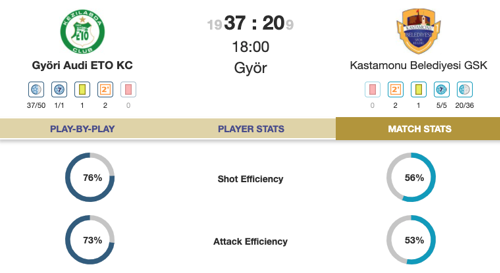 An admirable fight from Buducnost, but the Montenegrin side are left waiting for their first points of the season as they concede a four-goal defeat to Brest. The battle is lost in the final 15 minutes, after a close match until that point. It is the first time this season Brest have secured two victories in a row.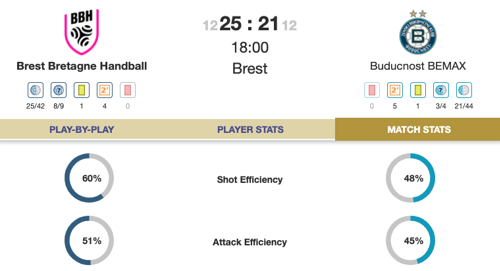 Big disappointment for Podravka Vegeta, who miss the chance to equalise in the dying minutes and see the points leave Croatia with Rostov-Don. 
Podravka's Bianca Bazaliu is the top scorer of the clash, with seven goals.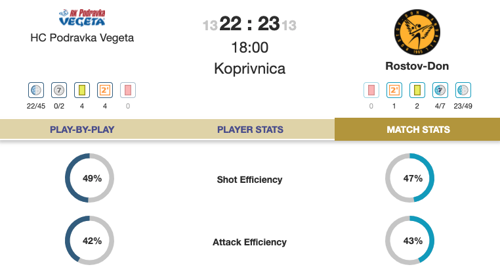 19:20
As the final whistle approaches, it looks as though Podravka and Buducnost might be about to leave the court disappointed, as the two sides chasing critical wins have fallen behind their opponents. In Croatia, Rostov lead Podravka 23:21. In France, Brest have the advantage at 24:21. 
In Györ, the hosts are powering home, leading 33:20. 
19:03
At the 40-minute mark, Podravka are putting up a great fight but Rostov have grabbed some momentum to lead 18:16. In a blow for the Croatian side, important back Dejana Milosavljevic has left the court — at least temporarily — with an injury. 
In France, Brest are still fighting off a big challenge from Buducnost, currently holding the advantage at 18:17. The 2020/21 finalists are powered by a huge 10 goals from Alicia Toublanc. 
In Hungary, Kastamonu have not allowed the score line to slip further, but Györ remain clear in front at 24:15 and are on track to extend their perfect run through the season. 



















18:40
HALF-TIME UPDATE: BREST BRETAGNE VS BUDUCNOST 12:12
Another level game after the first 30 minutes. Brest and Buducnost both took their turns with the lead during the half, with the French side creating the biggest distance of the 30 minutes early on before Buducnost found their footing.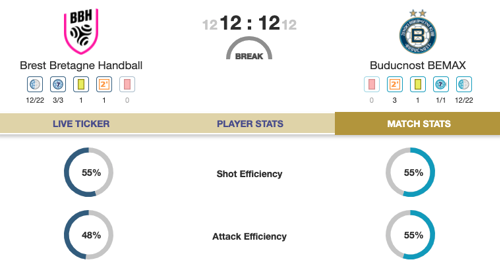 18:37
HALF-TIME UPDATE: PODRAVKA VEGETA VS ROSTOV-DON 13:13
Podravka and Rostov go to the half-time break all level, with Rostov's Ekaterina Levsha having the final say in the period. After the home side stormed ahead to an early lead at 8:4 at the 10-minute mark, the evidence of them losing steam may already be visible, but the Croatian team will surely do all they can to hold on and keep the points.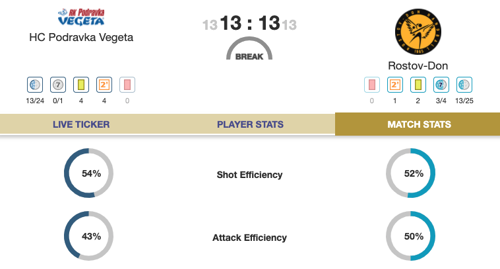 18:35
HALF-TIME UPDATE: GYÖR VS KASTAMONU 19:9
Györ are running rampant against Kastamonu and their arena of supporters are loving it, with all 19 goals met with huge cheers. The half ends with the Hungarian team on top as they retain their 10-goal advantage — and Kari Brattset has netted her first goal for every Györ court player to now have scored at least once.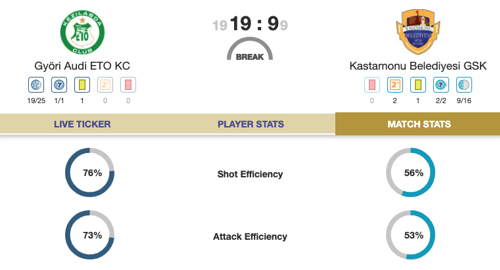 18:30
With four minutes to go before half-time, Györ have already hit a 10-goal lead against Kastamonu, 17:7. The only field player yet to join the scorer list for the Hungarian powerhouse is line player Kari Brattset, while Stine Oftedal and Estelle Nze Minko have netted three goals apiece. 
Meanwhile, Buducnost are holding steady against Brest, 11:11, and Podravka have a one-goal lead against Rostov, 13:12. 
18:19
As we pass the halfway mark in the opening halves at Györ, Brest and Podravka, Györ are creating a lead vs Kastamonu at 9:6; Brest just have the edge over Buducnost, 7:6; and Podravka and Rostov are level at 9:9. 
Podravka have enjoyed plenty of promising first halves before, so the big question is whether they can hold on to the end and challenge Rostov in those critical final minutes. If they can, Podravka could improve their record in the Champions League, which has seen them defeated in 13 of the last 14 matches (extending into last season).
The Croatian team interrupted their series of losses with a victory in their season opener against Buducnost, and have been waiting to add to their points tally since then. Most recently, they lost decisively to Dortmund. 
In the head-to-head record, Rostov have the upper hand, with three wins in four previous encounters — including victory in last season's play-offs. 















17:49
Before we turn our attention entirely to the upcoming matches, let's take a closer look at FTC's win versus CSM. 
The victory keeps FTC unbeaten on top of group A, with no rivals having the chance to catch them in this round now, as the nearest is three points behind (Team Esbjerg on nine points). The win also confirms FTC's best ever start in the Champions League, and they have levelled their longest unbeaten run in the competition. 
Will this be the season FTC finally end their long wait for the DELO EHF FINAL4? 
17:38
Don't go anywhere! Saturday's DELO EHF Champions League action is about to heat up, with three matches starting at 18:00 CET. 
In Croatia, Podravka are aiming to end a run of defeats as they host Rostov-Don, who target what would be their 60th victory in the history of the Champions League. 
In France, Buducnost are hoping to put an end to their own run of losses, which have seen them unable to take any points so far in the season. Brest have not managed two wins in a row yet this season, and enjoyed a one-goal victory in their previous match, on CSM's court. Will the French side end that record or will Buducnost celebrate their first points in 2021/22?
Two cases of an underdog facing a favourite, and the third clash coming up is potentially the most daunting of the three for the less favoured side — Champions League debutants Kastamonu, yet to claim any points in the top flight, are meeting Györ in Hungary. Györ have won all six matches this season. 












I am really proud of my team, because we fought and did not give up. I am really optimistic. It is always difficult against FTC, and now there is only one goal difference, so it is better to sit on the other half of the table. I am satisfied with the fight. We continue next weekend.
FTC coach Gabor Elek promised a thrilling game versus CSM and the match well and truly delivers as it comes right down to the buzzer. 
Cristina Neagu nets an equaliser for 30:30 with 26 seconds on the clock — the first level score in the entire match — before Itana Grbic scores the match winner for FTC with just three seconds to go.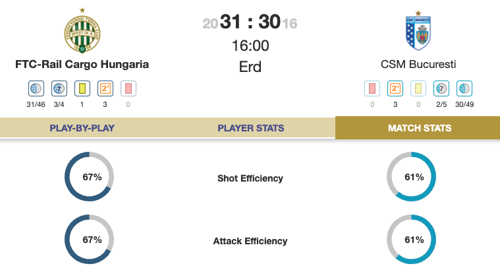 17:21
Another timeout as we head towards the final buzzer, and CSM coach Vasile changes his tactic once again, looking mainly for goals from the backs. Just over two minutes remain now and CSM are chasing a two-goal deficit, at 30:28 for FTC. 
17:15
Crunch time! The clock ticks into the final 10 minutes of Saturday's opening DELO EHF Champions League match and CSM still have plenty of work to do if they are to snatch the two points in Hungary. 
After CSM came within one goal, 27:26, with 14 minutes to go, FTC coach Gabor Elek called a timeout that stopped the visitors' run and opened the door for his team to reclaim a clearer advantage, helped by some great saves from Blanka Biro. With nine minutes left, FTC lead 29:26.  
17:04
CSM are still chasing their rivals but FTC are far from comfortable with their current lead of two goals, 26:24.
In a timeout, we just heard CSM coach Adi Vasile instruct his team to look more for the wings in attack — and right wing Carmen Martin was the next on the board with the following two goals to bring the Romanian side closer. 
In defence, Vasile asked his squad to push and focus more. Can they close the gap completely? 








16:45
As we prepare for the second half to throw off at FTC, let's look at who stood out individually in the opening 30 minutes. 
I already mentioned Grbic's and Stolle's strong openings to the clash. While Grbic added no goals after her fourth in the 23rd minute, Stolle top scored the first period with five goals. Katrin Klujber follows her teammates with three goals, making it clear CSM's troubles are largely coming from the FTC back court.
For CSM, both Elizabeth Omoregie and Cristina Neagu netted four in the first half. Neagu is among the top scorers of the season so far, entering this match with 40 goals and in fourth position on the top scorer chart. 
16:35
HALF-TIME UPDATE: FTC VS CSM 20:16
CSM manage to reduce the deficit to two goals multiple times in the final 10 minutes of the half, but FTC reopen their four-goal lead before the buzzer and keep a confident advantage ahead of the second period.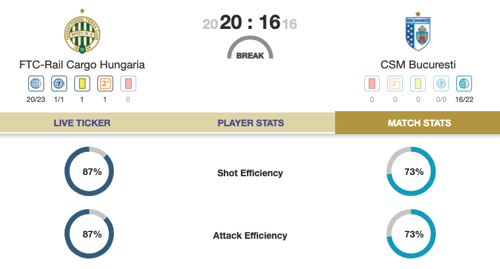 16:15
A big start from FTC sees them holding the lead at 10:6 13 minutes in vs CSM. The charge is led by a great start from backs Itana Grbic and Alicia Stolle, who have combined for seven goals already. 
While Stolle joined the Hungarian side ahead of the 2020/21 season, Grbic was a very late addition ahead of the current season, arriving from Buducnost at the end of August. Safe to say Grbic has settled in superbly in her third venture outside Montenegro, after stints at Vardar and later CSM itself. 
16:00
Starting whistle in Hungary and round 7 is underway with a new episode in the fiery rivalry between FTC and CSM. Let's dive into some key facts surrounding this encounter. 
FTC are one of just two teams still unbeaten this Champions League season, alongside fellow Hungarian side Györ. A win in this clash vs CSM would represent their best ever start of a season in the premium European competition.
Also, provided they do not lose against CSM, FTC will tie their longest-ever unbeaten run in the history of the DELO EHF Champions League — an eight-game streak.
With such a start to the season, it's no surprise FTC are leading the table, with 10 points. CSM have scored 168 goals this season — one more than FTC — but they are four points behind the group leader and are currently ranked sixth. 
The sides have met eight times in the past four seasons, with CSM taking two wins, but the last two matches hosted by FTC were clear wins for the Hungarian side — 33:23 in the 2019/20 season and 31:27 in the 2020/21 season. 
We always play special matches against CSM — that's what it will be. I am sure that the teams will be welcomed in an atmosphere that is unique in Europe. We want to win, but that requires very good performance.









15:15
After two weeks without the top flight, the DELO EHF Champions League is back! Round 7 sees eight games, with four getting the round started today. 
We are less than an hour from throw-off in the first clash of the round, FTC vs CSM Bucuresti at 16:00 CET. 
Saturday's action concludes with three games, coming up at 18:00 CET:
Brest Bretagne vs Buducnost
Györ vs Kastamonu
Podravka Vegeta vs Rostov-Don 
Get your big day of handball started with our preview of the round, as well as a feature on Györ's Korean star Eun Hee Ryu and, for tomorrow's MOTW, Sävehof's Nina Koppang. Find them all below!