Beach Handball
Rewind: The 2000 EHF Beach Handball EURO
As we countdown to EHF Beach Handball EURO 2021, we take a look back all previous events in the competition's rich and colourful history. First up, the first ever Beach Handball EURO in 2000.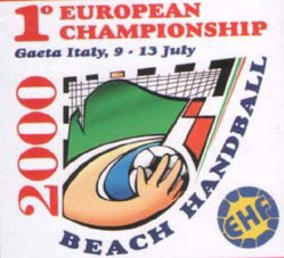 In a nutshell
After the EHF and the IHF adopted beach handball in 1996 the next logical step was to, of course, hold a European Championship.
With Italy historically considered as the birthplace of beach handball, what better place to start than in Gaeta?
The format saw eight nations compete in one preliminary round with the top four progressing to the semi-finals.
In total 10 countries competed: hosts Italy, Belarus, Spain, Ukraine, Russia, Germany, Greece, Turkey, Netherlands and Yugoslavia.
















From the President
Presiding over this historical first Beach Handball EURO was EHF President Staffan Holmqvist.
The Swede wrote in his programme notes: "We do really expect a lot from this attractive brand of handball, that had its origins in a pastime/leisure sport on the beach – not only because we want to develop a good product for the sports market, which is related to handball – but also to attract more people and the media for our game all over the world."
Belarus come from nowhere
The men's competition was not short of drama – before the first ball was even thrown. With only seven countries confirmed, Belarus answered a last-minute call to ensure a line-up of eight nations.
With all teams competing against one another in the preliminary round, Spain soon emerged as clear favourites after winning all seven matches and dropping just three sets in the process.
Belarus, however, finished second in the opening stage despite having no prior beach handball experience.
But their physicality and fast brand of beach handball saw them reach the final. That's where they would comeback from losing the first set against Spain and win 4:2 in the shoot-out to claim a miraculous victory.

The winners' story
Andrei Kurchau fired Belarus to glory in Gaeta, finishing top scorer with 98 points – some 19 points ahead of his nearest challenger.
And the sharp-shooting Belarusian has nothing but fond memories of his time in Italy.
"It was nice to win a European title. Not everyone can boast it. In 2000, nations like Spain or Turkey seemed to have a bigger chance to win, because they had better facilities – they had actual beaches, while we didn't.
"When you are going to a tournament, you always hope to win it. However, our triumph was quite unexpected for many, and to some extent even for ourselves. But we had prepared thoroughly for a few months. We had a 10-day training camp in Yuzhny, Ukraine, where we had three to four training sessions every day before we played two or three tournaments in Germany.
"I had a good chemistry with my teammate Siarhei Ubozhanka. He set up probably 60 or 70 per cent of my goals, most of which were in-flight goals which counted as two points. I was happy to end up as a top scorer of the competition, leaving my closest rival far behind.
"I never played beach handball again after the EURO in 2000, but it helped me to become a more complete player. I still live in Germany, and many people are surprised to learn that Belarus won the first European Championship in beach handball and that I was a member of that team. It is an accomplishment that I am still very proud of."
Ukraine take first women's title
The women's competition followed a similar story to the men's as Ukraine – who like the Belarussian men – finished second in the preliminary round before going to glory.
The Ukrainian side had lost once in the first round to the German team who won all seven of their matches. However, it was the Eastern Europeans who had the last laugh in the final.
Ukraine stormed to a huge first set win – 22:7 – before Germany sent the tie to a shoot-out. It was there that the Ukrainians held their nerve to win 2:1 to spark wild scenes of celebration.

How did Italy do?
Off the court, the hosts were just thrilled to be playing the role of welcoming nine countries from across Europe. Indeed, Italian Handball Federation President Francesco Purromuto praised the work of the organising committee.
On the organising committee, he said: "[They] have worked so hard in this exciting adventure, the appreciation to have wished to accept a hard challenge taking the onerous task to start an experience never attempted before and that, in the future, will be for sure remembered as the starting moment of a new adventure."
On the sand, both men's and women's teams competed in the 5th/6th place match, with the men beating Germany to finish fifth while the women went down to the Netherlands to land up in sixth.
Worth a watch
If there's one thing you do today: spend four minutes and four seconds of your time to watch the official promotional video of the event. Enjoy.
A special European Championship because…
Well, it was the first ever EHF Beach Handball EURO. And it will always hold a special place in our hearts.
Star attraction
Spain went into the tournament as favourites to lift the men's championship and no wonder considering in goal was none other than José Javier Hombrados.
The legendary keeper had a CV jam-packed with all the biggest prizes handball had ever had to offer: four EHF Champions Leagues, two EHF Cup Winners' Cups, one World Championship, two EHF EURO silver medals and two Olympic bronze medals.
However, he couldn't stop Belarus from taking gold here, could he?
Where are they now?
The Italian's men coach was none other than Marco Trespidi. Widely considered to be the 'fathers' of beach handball, Marco now finds himself on the EHF Beach Handball Commission and as an EHF Delegate. One thing's for sure: Marco's heart beats for beach handball.
The championship in one word
Historical
And finally
We wish to show our gratitude to the local organiser for the information, materials and background provided for this feature, including President Antonio Viola and the team who organise the Calise Cup ebt tournament in Gaeta. Additional reporting by Sergey Nikolaev, whose contacts in Belarus helped us get the thoughts from the victorious men's team.