Veszprém players win full set of medals
As the first nation, Denmark won the Men's World Championship title for the third time in a row, beating France 34:29 in the final in Stockholm.
France counted on 12 Champions League and five European League players; bronze medallists Spain on 10 and four, respectively.
The only club with a full set of medals, and the only club represented by both finalists, was Telekom Veszprém HC. Their Danish back Rasmus Lauge was the top scorer of the final with 10 goals; their French back Kentin Mahe was the best scorer for his team in the tournament with 36 goals; and their Spanish goalkeeper Rodrigo Corrales saved five crucial shots in the bronze medal match.
Three Champions League clubs were each represented by six players from the four teams that contested the medal matches: Barça, Paris Saint-Germain Handball and Industria Kielce.
Overall, a total of 11 Champions League clubs and six European League participants were part of the final day of Poland-Sweden 2023; remarkably, the club with the most players from Denmark play in the European League: German side SG Flensburg-Handewitt has six Danes in their squad.
More Danish success: Mathias Gidsel (below), from European League team Füchse Berlin, was the tournament's top scorer with 60 goals, including six in the final. Gidsel was also awarded the MVP title, the second Danish player to receive the award after Mikkel Hansen (2013, 2019, 2021). Gidsel was also MVP at the Olympic Games in Tokyo.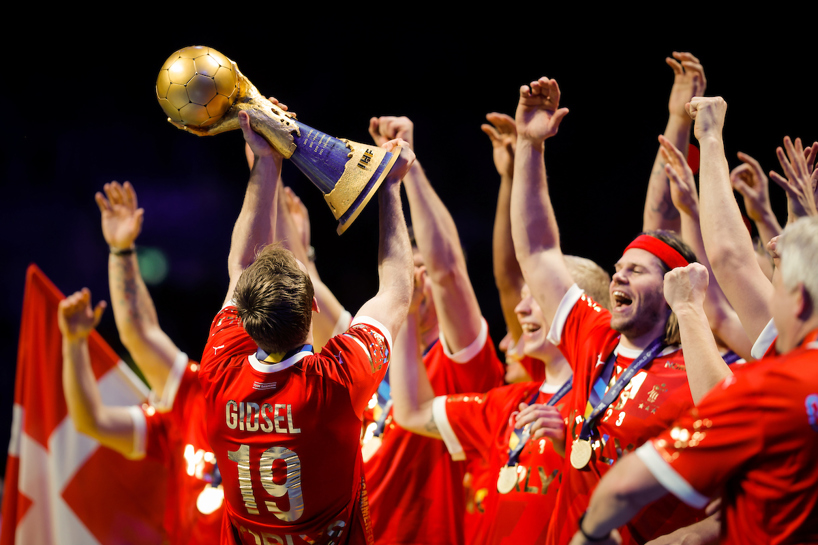 Six Champions League players were named into the All-star Team, including three from Kielce: German goalkeeper Andreas Wolff, French centre back Nedim Remili, and Spanish right back Alex Dujshebaev.
All-star Team
Goalkeeper: Andreas Wolff (Germany/Kielce)
Left wing: Angel Fernandez (Spain/Limoges)
Left back: Simon Pytlick (Denmark/GOG)
Centre back: Nedim Remili (France/Kielce)
Line player: Ludovic Fabregas (France/Barça)
Right back: Alex Dujshebaev (Spain/Kielce)
Right wing: Niclas Ekberg (Sweden/Kiel)
Best young player: Juri Knorr (Germany/Löwen)
MVP: Mathias Gidsel (Denmark/Füchse)
Top scorer: Mathias Gidsel (Denmark/Füchse) - 60 goals
Machineseeker EHF Champions League club ranking:
6 players from 3 nations: Barça (3 FRA/1 ESP/2 SWE)
6 players from 3 nations: Paris Saint-Germain Handball (4 FRA/1 ESP/1 SWE)
6 players from 2 nations: Industria Kielce (3 FRA/3 ESP)
5 players from 2 nations: Aalborg Håndbold (3 DEN/2 SWE)
4 players from 3 nations: HBC Nantes (1 FRA/2 ESP/1 SWE)
4 players from 2 nations: THW Kiel (2 DEN/2 SWE)
3 players from 3 nations: Telekom Veszprém HC (1 DEN/1 FRA/ 1 ESP)
3 players from 2 nations: SC Magdeburg (2 DEN/1 SWE)
3 players from 2 nations: GOG (2 DEN/1 SWE)
1 player: OTP Bank - Pick Szeged (1 ESP)
1 player: Orlen Wisla Plock (1 ESP)
EHF European League club ranking:
7 players from 2 nations: SG Flensburg-Handewitt (6 DEN/1 SWE)
5 players from 2 nations: Montpellier HB (4 FRA/1 SWE)
4 players from 2 nations: Füchse Berlin (3 DEN/1 SWE)
3 players from 2 nations: PAUC (1 FRA/2 ESP)
1 player: BM. Fraikin Granollers (1 ESP)
1 player: Kadetten Schaffhausen (1 ESP) 
CL/EL players per WCh semi-finalist:
19 players: Denmark (10 CL, 9 EL)
17 players: France (12 CL, 5 EL)
14 players: Spain (10 CL, 4 EL)
13 players: Sweden (10 CL, 3 EL)