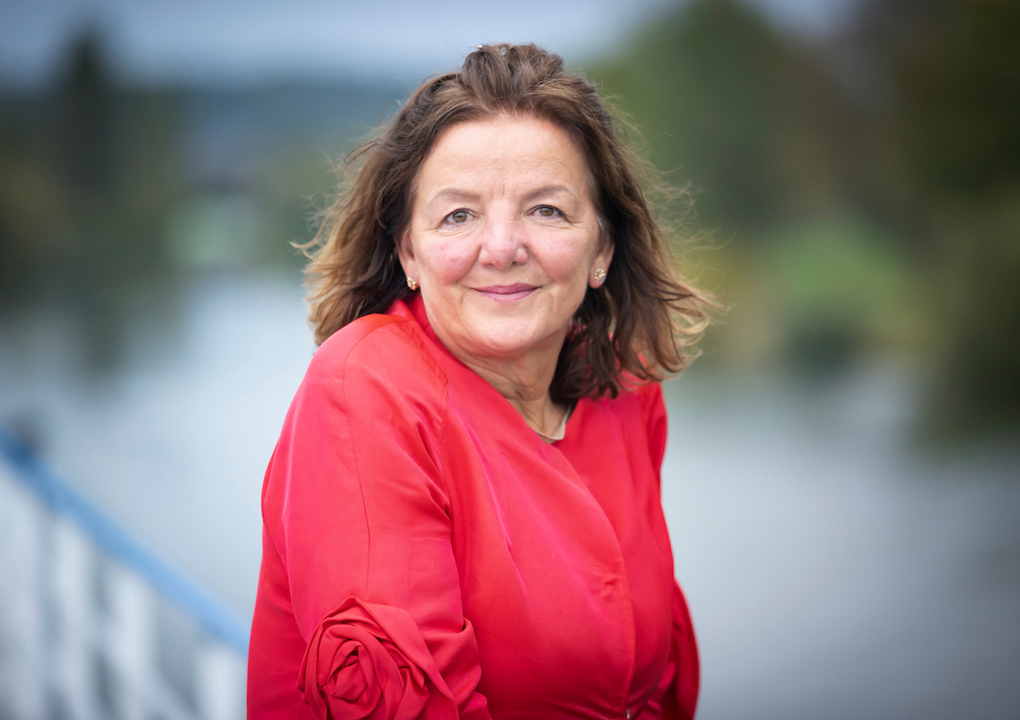 Women at the heart of the game: Marta Bon's advocacy
'Women at the Heart of the Game' is a weekly series in the build-up to the Women's EHF EURO 2022 and features former stars who have transitioned into a new role. In today's third episode: Marta Bon, former handball player and coach, now gender equality advocate from a small Slovenian place called Mirna.
With a little more than a month left until the Women's EHF EURO 2022, all 16 teams have gathered for the national team week. From 4 to 20 November all eyes will be on Europe's best handball players, giving their best and playing with a heart for the trophy in Slovenia, North Macedonia and Montenegro.
After hosting the Men's EHF EURO 2004, Slovenia is co-hosting the women's tournament for the first time. With two group matches, one main round group, and the final weekend, handball fans from Slovenia will have a chance to watch top-level handball and stellar performances.
One of the ambassadors of this event is a former handball player, long-term handball coach, member of the EHF Executive Committee, chairwoman of the EHF Women's Handball Board, president of the Commission for Gender Equality at the Olympic Committee of Slovenia, member of the EHF Methods Commission and professor at the Faculty of Sports: Dr Marta Bon.

Marta Bon has been an important part of Slovenia's women's handball, and sport in general. Bon has experienced all sides of sport as a player, as a coach, as a lecturer, and as a member of many domestic and international organisations. A workaholic with a passion for sport and gender equality, she received the Bloudek Award, the highest award for achievements in the field of sports in Slovenia.
A successful woman in many fields, proud mother of a daughter and a son, but where did everything start?
"I am talented for sport since I was little. I played football, volleyball, and basketball, but handball was my love. Like everyone back in the day, I started my handball path in school. My teacher convinced me to try handball and made an impact on me. That's why teachers are so important in life," Bon says.
Marta Bon played for more than 15 years on the top level. She won the Slovenian Cup in 1981, finished second in the First Yugoslav league, was twice a Cup Winners' Cup semi-finalist, and was a team captain and both player and coach at the same time in 1993, before ending her playing career.
"I started to play for a small handball club, Mirna, and from there I moved to Krka. It is really important for a person to get noticed, to be invited to join, to be part of something big and move to a higher league. The next step was Olimpija Ljubljana, the club where I made a step forward in my career as a professional player," Bon recalls.

"My biggest success as a player was time spent in Olimpija. My path in Krim started by accident in a way. I decided I wanted to end my professional career but I still wanted to stay in training. So, I joined Krim, which was at the time a small club playing in a lower league. After some time, the president at the time, Zoran Jankovic, and I seemed to have the same ambition, even though at the time I never imagined it would lead me to where I am today. I was a player and a coach in Krim," says the EHF lecturer.
Her first time at the helm of Krim was from 1990 until 1994. Marta Bon returned to Krim on two more occasions: in 2008-11 and 2013-15. As a head coach, she led Krim in the EHF Champions League.
"I am really proud I am part of Krim's story. From a small club in the second Slovenian division when I joined, to now, playing their 28th consecutive EHF Champions League season as record holders in the top-tier competition," Bon says.
Bon's expertise in handball did not stop at Krim. She was a head coach of the Slovenia national team, Switzerland national team, Olimpija Ljubljana, Slovenia beach handball national team, and Slovenia women's junior national team. She led Slovenia to their biggest success in the World Championship so far, finishing eighth.
"Sometimes I think about how I managed to do everything I did, but opportunities were leading me. I feel like it is my mission to share my experience and knowledge with others. In a way, I am a little bit jealous of women starting their sports careers now, especially in the coaching field. When I started, my path wasn't easy. I was one of the first female coaches, I think even in the Balkans. There were many stereotypes, like hearing: 'Women can't be a coach.' I was under constant pressure and that was a hard period for me. Today, I reflect on that period with pleasure, because I know I did well," says Bon about her beginnings.
We are often talking about dual careers, sports and education. But I believe we will have triple careers – with the third being a good person. When I was coach, I probably bored my players as I used to talk a lot about things like that, but I know, today they are grateful for that.
Bon has come a long way since, as she is an honoured member of the Slovenia Handball Federation, worked in the Methodical Commission, was a vice-president of the Slovenia Handball Coaches Association, author or co-author of more than 200 articles and four books about sport and handball, and speaker at many conferences.
But she has also contributed a lot to the field of gender equality.
"I think for women there are higher criteria when it comes to working, coaching, etc. and different approaches and treatments in the media. I felt that too, when I was a head coach. They never title you as an expert, or specialist, only Marta Bon or coach Bon. That's why I am part of the organisation in Slovenia for connecting successful women and their presence in the media, Ona Ve."
As a president of the Commission for Gender Equality, Bon has also made changes and feels like her mission in life is to open new doors.
"When I came to the Olympic Committee of Slovenia, I said I don't want only the women's commission. If we are going to have a women's commission, then we have to have a men's, too. Or have a joint commission, equally treated. We are maybe different, but we have to work together. The mission is not to compete with men, but to be equal and go side by side in our progress."

Bon has been part of the Women's Handball Board since it was formed in 2012 to serve as a platform within the EHF, strengthening the position and performance of women's handball in Europe as well as increasing participation of women in handball, both on the court and in the infrastructure.
"I remember the beginning of the board, we had two main strategies: increase the number of women in handball, especially on the top level, and the second one was the development of women's handball. We wanted to focus on the quality of handball, the beauty of movement, emotions and better media coverage," recalls Bon.
Today, the Women's Handball Board's main tasks are numerous projects and strategies or promoting gender equality. One of the projects is 'Respect Your Talent', which is now a key programme within the EHF.
"I have an idea to expand the project, to learn young players not only to respect their talent, themselves, but also others, spectators, sponsors, media representatives and each other. I have always tried to pass these things to the players I used to coach. Many coaches do this, too, because you have to take care of your players outside of the game as well. With 'Respect Your Talent' now we have that systematised."

Bon takes pride in her teaching career at the Faculty of Sport, where she is giving her best not to transfer only handball knowledge but also life experience.
"We are often talking about dual careers, sports and education, but I believe we will have triple careers – with the third being a good person. When I was coach, I probably bored my players as I used to talk a lot about things like that, apart of handball and tactics, but I know today they are grateful for that."
It is no surprise the Slovenian Handball Federation choose Marta Bon to be one of the ambassadors for the upcoming EHF EURO 2022, a real woman at the heart of the game. Ljubljana and Celje will be home to the 15th edition of the European Championship and Slovenia takes pride in that, says Bon.
"It is very important to be a host of an event like this. For sport, for handball, for women. After 2004, analysis has shown there were 60 times more children in handball academies in Slovenia. I hope it will be the same with this women's edition of the EHF EURO. It is important to introduce handball to children, both girls and boys. Another aspect is the financial side and organisational progress, which I hope will increase both in Slovenia, but also in other countries."

Slovenia is working hard on the promotion of the EHF EURO 2022 with many different activities: from the countdown clock reveal, sustainable aspects of the project, starting the journey of 'A Ball of Thousand Touches', to the empowerment of women in society and sport.
"For me, being an ambassador means a lot. As a role model, you are proving you can be successful both as a player and a person. My mission is to give my time and effort to show young people, boys and girls, they can do many good things, for themselves, and for society, through sport. I am grateful for where I am today. I'm grateful for the people that have helped me along the way. That's why I have a strong wish to continue that, to help others. One thing I know: If I could do everything again, I would do it the same," concludes Bon.